Mass Schedule

Saint Joseph Church - Princeton: Located at: 410 South Race, Princeton, IN 47670 (812) 385-2617
Saturday Evening 6:00 p.m.
Sunday Morning 10:30 a.m.
Saint Bernard - Snake Run: Located at: 5342 East State Road 168, Ft. Branch, IN 47648 (812) 753-4568
Sunday Morning 8:30 a.m.

Church Bulletin


Each week the church bulletin will be posted here for your convenience.


---
Parish Event Calendar


Click on the calendar to see what is going on around St. Joseph.
---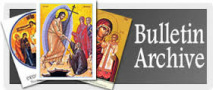 Click on the picture at the left to see past church bulletins.

---